1- Kick off the month with a hilarious class game of WOULD YOU RATHER? Halloween edition.
Students are given 2 unsavory but funny choices and must decide which they would prefer. Your students are guaranteed to have a great time, as well as to connect with their peers. Students move to the A or B side of the room to indicate their choice. My favorite thing about this game is that students are constantly shifting sides and they get to see that they have commonalities with nearly every person in their class. It is a wonderful tool for creating friendships!
2- Short Film Workshop: ALMA
❤AWARD WINNING PIXAR SHORT FILM: ALMA
This spooky workshop focuses on how a professional writer uses literary elements to foreshadow trouble. Students learn that literary elements interact to shape the story and will use these elements to create an alternate ending.
LITERARY ELEMENTS/DEVICES:
FORESHADOWING-Students learn specific foreshadowing techniques
MAKING INFERENCES-Searching For Clues
PLOT-Creepy plot elements that foreshadow trouble to come
SETTING-Changes in the setting foreshadows trouble to come
ALTERNATE ENDING WRITING ACTIVITY-Students used techniques learned to create their own foreshadowing.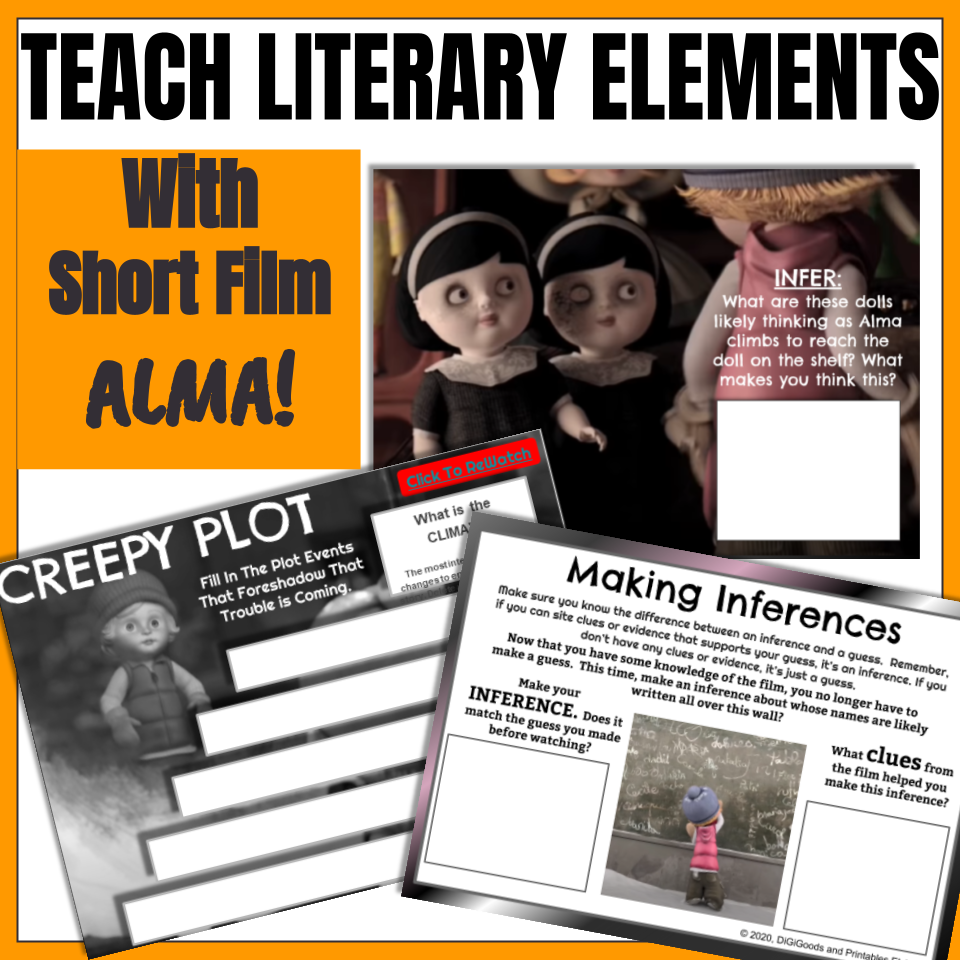 3- October writing prompts with RACE strategy: Halloween themed
❤This October weekly CCSS aligned set includes:
4 Writing Prompts
Sample Response Answers
Links To Articles
Response Slide
RACE Anchor Chart
RACE Rubric
Collaboration Tools
Each virtual chalkboard includes a writing prompt and a link to an article or video for students to read/watch before responding to the prompt.
❤Articles For This Month Include:
The History Of Trick Or Treat by Tween Tribune
How To Mummify A Body by Tween Tribune
Myth Busted: Friday The 13th by National Geographic For Kids
Grades Don't Correlate With Intelligence by The State Press