HELP STUDENTS IMPROVE THEIR WRITING WITH GRAMMAR EDITING BELL RINGERS. Students read short, high-interest paragraphs (informational text) each day and correct the 10 errors. The repetitive exposure to correcting pesky writing errors, such as fragment and run-on sentences, commonly misspelled words, capitalization, etc. is guaranteed to help students improve their own writing.
JANUARY-THEMED BELLRINGERS (DIGITAL AND PRINTABLE; EACH SPECIFICALLY DESIGNED FOR THE CORRECT FORMAT.)
DIGITAL AND PRINTABLE VERSIONS SOLD SEPARATELY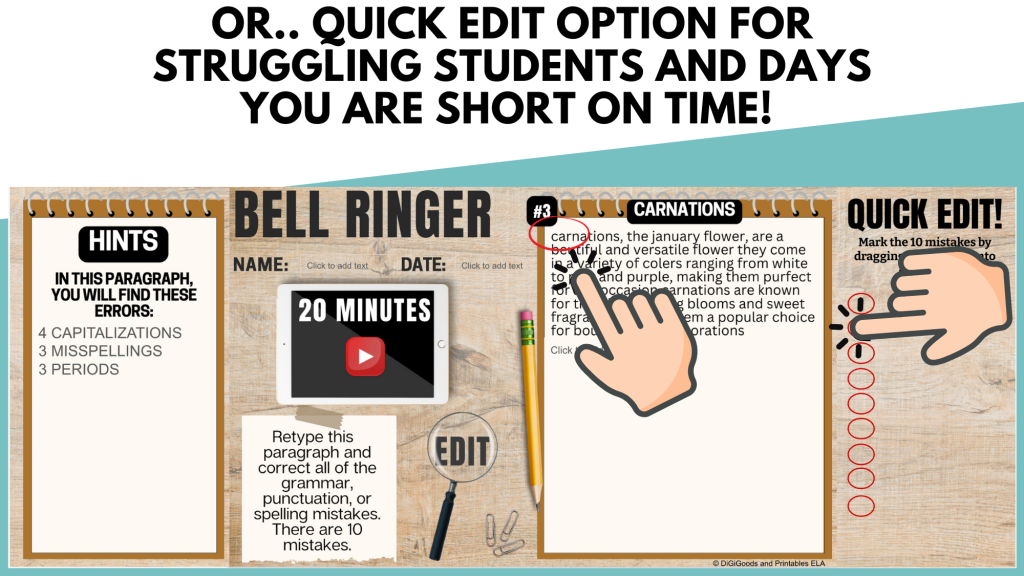 COMING SOON: BELL RINGERS FOR EVERY MONTH!
Did you know that if you can ALL DiGiGoods resources 1/2 OFF for 24 hours after they are uploaded? Connect with me to get alerts and never miss out! HERE ARE 3 WAYS TO CONNECT!